Their birthdays nearly kept them apart, but Boston Market brought them together.
Rebecca Urff, the senior associate in our tax and financial planning practice, married Robert Pavese on Aug. 9. Though they both grew up in Emerson, N.J., the kind of small town where everyone knows everyone else, they were only acquaintances through most of high school. Robert's birthday falls later in the year than Rebecca's, so while she was a senior, he was a junior.
Then they found themselves working together at the local chicken chateau after school. The relationship bloomed, though college kept them apart most of the time. Rebecca earned her bachelor of business administration in finance from the University of Pittsburgh in the spring of 2000, while Robert proceeded briskly through Quinnipiac University in Hamden, Conn., where he received his bachelor of science in finance later that year. Now Rebecca and Robert study together in the evening program at Pace University in White Plains, N.Y., where they are working on master's degrees in accounting and business administration, respectively.
The new Mrs. Pavese, 24, joined Palisades Hudson Financial Group just after graduating from Pitt. She is the daughter of Nancy and Harry Urff of Emerson. Nancy is the assistant executive director at the Broadway House for Continuing Care in Newark, and Harry works in sales for Kuiken Brothers, a hardware and lumber outlet in Emerson.
Robert, 23, works for the Palisades Federal Credit Union (which has no relationship to Palisades Hudson Financial Group) in Pearl River, N.Y. He is the son of Robert Pavese, the local government construction official for the communities of Emerson and Alpine, N.J., and Rosaly Pavese, a nurse at Pascack Valley Hospital in Westwood, N.J., and Paramus Park Medical Group in Paramus, N.J.
The newlyweds returned to work in late August after a honeymoon trip to Maui and California's Disneyland.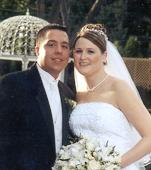 Mr. and Mrs. Robert Pavese