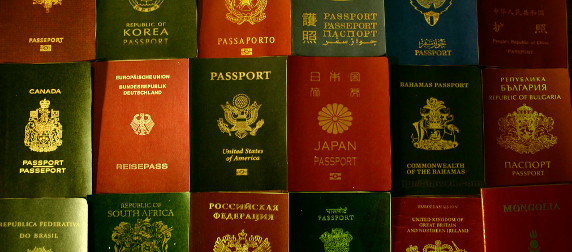 photo by Baigal Byamba
Malaysia Airlines Flight MH370 seized the world's attention this week, with most of the focus rightly on the 239 people aboard when it disappeared. Yet amid the mounting concern and the frantic search, we were left to wonder how an obvious security breakdown could have happened.
Two of the passengers aboard Flight 370 used stolen passports and two more may have had suspect identities, according to The Associated Press. Malaysian Transport Minister Hishammuddin Hussein emphasized that authorities were investigating the entire passenger manifest, not just the four suspicious names.
Yesterday, authorities identified the two men traveling on the stolen passports as Iranian nationals who may have been simply trying to reach Europe in search of employment or asylum. Malaysian authorities asserted that the pair had no known ties to terrorism and were not believed to be part of a plot, although in the absence of any direct evidence, it is not clear how authorities reached that conclusion. We do know that the false documents the two men presented are among the 60,000 passports reported stolen annually in Thailand.
As the search for the aircraft, its wreckage and its presumably deceased passengers widened yesterday, we could only speculate about whether the airplane disappeared due to terrorist attack, hijacking, or any sort of foul play at all. It is entirely possible that the suspicious passengers were victims of an accident, just like everyone else on the Boeing 777. Yet the fact that they managed to get on the flight using names other than their own is very worrisome to anyone who cares about aviation security in an age of random violence.
Interpol knew about the stolen passports, but the international police agency reported that no authorities checked the documents against Interpol's database of stolen travel documents before the doomed flight took off. Interpol Secretary General Ronald Noble said that "only a handful of countries" among its 190 members routinely make such checks.
The most basic step in airline security is to know who is on the plane. It comes as a surprise, then, to most travelers that passports inspected at airports around the world are not routinely checked for authenticity. Interpol reported that while its database is searched more than 800 million times annually, these queries come from a relatively small number of countries: The U.S. alone is responsible for more than 250 million searches, the U.K. more than 120 million and the United Arab Emirates more than 50 million.
Other member nations check the database seldom or not at all because of limited facilities or the costs involved. Apparently most Asian countries are habitually lax.
Even without checking with Interpol, there are other options for making sure the people boarding flights are who they claim to be. For example, some passports have biometric features to identify their holders. If a passport says the bearer is 5'9" and has dark brown hair, someone presenting it who is 5'2" and blond should raise some questions. The stolen Austrian passport did have biometric features, Bloomberg reported. Immigration officers in the Kuala Lumpur International Airport routinely check features such as faces and thumb prints, but when their system crashes or slows, agents key in information manually, bypassing the checks.
The fact that two passengers with fake identities made it onto an international flight aboard a national flag carrier, bound for a country that recently suffered a terrorist attack, is startling. Even though there is no evidence at this point connecting the missing flight to the attack earlier this month at a train station in Kunming, many have speculated about a link between the two incidents. Potential terrorism aside, 153 of the flight's passengers held passports from mainland China. The Chinese are upset. We all should be.
If my daughter was about fly from Istanbul to Madrid, would I be able to see ahead of time how vigilant Turkey is in checking the passport of each person who boards her flight?
A quick search indicates that a nonstop flight from Istanbul's Ataturk Airport to Madrid-Barajas would almost certainly be on Turkish Airlines, but the airline gives no special information about identification procedures. The airport's website advises that all passengers must have identification in order to board, but does not describe what measures (if any) are used to make sure that the ID presented is legitimate. Turkey is a member of Interpol, yet it is not easy to find how often Turkish officials search the stolen travel document database. And while Turkey's relatively complicated visa requirements are easy to find, I would have to spend much longer and dig much harder to learn what precautions Turkish security officials take to make sure the person presenting the visa is the one named in the document. Even if I spend that time, will I get the information I want?
Until I can answer yes, and until every country is rigorous about exercising basic security measures and knowing who is on board, then the facts that air travel is exceptionally safe and that incidents like the disappearance of this Malaysian flight are vanishingly rare will not be enough to keep travelers, especially leisure travelers, from having second thoughts about taking a vacation on a far-away beach.