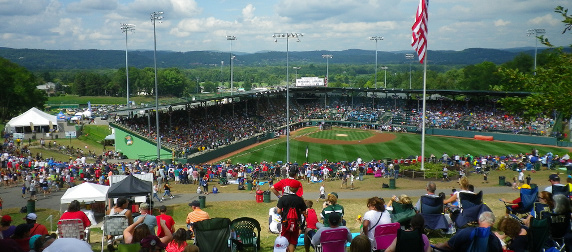 The Howard J. Lamade Stadium in Williamsport, Pennsylvania, home of the Little League World Series.
Photo by Sam Nabi
About 25,000 fans turned out at Philadelphia's Citizens Bank Park on Wednesday to watch the hometown Phillies meet the Seattle Mariners. Halfway across the state and a few hours later, more than 34,000 came to cheer another Philadelphia team as it took on a squad from Las Vegas.
The struggling Phillies had the better day, as they topped the playoff-contending Mariners 4-3, while the Taney Dragons succumbed to a power-hitting Mountain Ridge team from Nevada, 8-1, at the Little League World Series in South Williamsport. Yet hardly anyone in Pennsylvania really cared how the Phillies fared. That day the Dragons were the hottest sports ticket in the Keystone State, and maybe in America.
The reason, of course, was Mo'ne Davis, the Dragons' star pitcher, who this week became the youngest athlete and the first Little Leaguer ever to make the cover of Sports Illustrated.
Davis, 13, is a girl competing at the highest levels (for her age group) of a sport that long relegated girls to the bleachers. World War II did give rise to the All American Girls Professional Baseball League, which operated from 1942 to 1954 and was remembered in the 1992 film "A League of Their Own." The movie was a favorite in my household when my daughters were growing up.
And Davis is far from the first girl to play Little League baseball. That distinction belongs to Kathryn Johnston Massar, who posed as a boy and went by the name Tubby Johnston to play a season in upstate New York in 1950. The next year, Little League officials adopted a rule banning girls from play. They called it the Tubby Rule, and it stayed on the books until 1974, when several girls across the nation sued and lobbied local officials (who often provided fields for Little League use) for the right to play with the boys.
Davis is not even the first girl to play in the LLWS; according to Sports Illustrated, she is the 18th. She is one of two girls in this year's competition, the other being Kayla Roncin from Toms River, New Jersey, whose squad was eliminated earlier in the tournament.
But she vaulted to national attention last week when she tossed a two-hit shutout against Tennessee on Aug. 15, becoming the first female pitcher to win a game at the LLWS. It was her second consecutive complete game shutout; the first was the game that qualified her team for the tournament.
Davis became instant box-office magic. A reported 32,148 people turned out for last Sunday's Dragons game against Texas, even though Davis was not pitching. They merely wanted to see her play and to root for her to get another chance to take the mound. The crowd got its wish when the Dragons rallied for a 7-6 win, allowing the team to advance to Wednesday's game against Nevada.
Davis did not fare as well on the next game she pitched after her Sunday shutout. She gave up a run on a couple of hard-hit balls in the first inning and a two-run homer in the second. Her coach pulled her from the mound after she recorded one out in the third inning in order to hold down her pitch count and keep her eligible for a potential rematch against Nevada tomorrow. But first the Dragons would have to win against a Chicago team in a game that was scheduled for last night. (Because I am traveling this week, that game was too late for me to include its results here, but if you care, you probably already know what happened.)
I regularly took both of my daughters to Mets and Yankees games when they were growing up. We used to talk about who might become the first female player in the big leagues. We concluded that whoever it is will probably be a pitcher. Although being able to throw hard is a big plus, and bigger bodies make for harder throwers, it is possible to succeed on the mound just by throwing a ball with movement and accuracy. There is no reason a woman cannot do that as well as a man.
The path to the big leagues goes through the American minor leagues. Very few minor league ballparks can hold nearly as many fans as Davis drew to Williamsport this week, and one of the hallmarks of minor league ball is the struggle to fill even the seats they have. At least a half-dozen minor league owners would probably leap at the chance to put Davis on their club - right now, when she is only 13. But don't worry; major league affiliation agreements won't let them.
Still, Davis' success and the following she has attracted show us how ready America is to accept and embrace a female ballplayer in the presently all-male professional leagues. Her gender may be a draw for the fans, but only because we want to cheer for a pathbreaker. Teammates and opposing players have already recognized that she is a good athlete and a worthy competitor. We have also seen this recognition in other sports that have gone co-ed, such as golf.
Maybe in a decade or so, we will have a chance to watch Davis play in the big leagues. The odds are against it, but someone has to go first, and she has shown as much potential as anyone else. One thing is certain: When that first female ballplayer takes the field for a major league team, a whole lot of people will be watching.