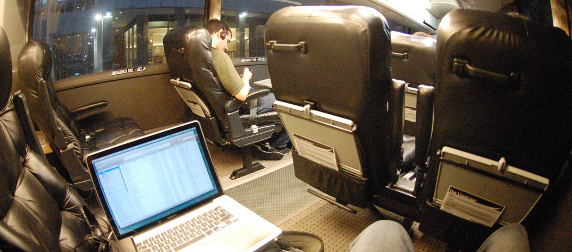 LimoLiner interior. Photo by Flickr user ChrisDag
Travelers planning a trip from one city to another typically stick to planes, trains and automobiles, though not in that order.
But increasingly, buses are edging their way back onto that list.
An article in the Miami Herald captured bus travel's image problem when it quoted a flight attendant's surprised admission: "I never thought I'd say this, but the bus is a really nice option." Intercity bus travel conjures images of uncomfortable seats, bumpy roads and a motley crew of fellow passengers, but bus companies have worked hard to change that impression in recent years.
Luxury bus services tackle the problem from the angle of comfort. Miami-based RedCoach offers large leather seats, on-board movies and free Wi-Fi on its trips between 11 Florida cities. The Herald reported that RedCoach, like other bus companies, has found favor with college students and business travelers, who together make up three-fourths of its total passengers. Other companies have been exploring demand for luxury bus service elsewhere in the country, including LimoLiner between New York City and Boston and LuxBus between Las Vegas and Anaheim, Los Angeles and San Diego.
On the other end of the spectrum, some companies have worked to make economy bus travel a safe and attractive option. British-based Megabus, which arrived in the United States in 2008, quickly gave rise to a Greyhound-owned competitor in BoltBus; both offer tiered pricing with at least one ticket per trip at a $1 fare, plus booking fees. Most passengers pay between $10 and $30. To keep costs down, both companies pick up curbside. Yet even on these carriers, customers typically have access to power outlets and Wi-Fi.
Both luxury and economy bus travel offer other advantages besides connectivity. The primary one is also perhaps the most obvious: flexibility. Buses go where you want them to go. Unlike rail systems, if a certain bus route sees a significant decrease in passenger traffic while travelers clamor for service to a new destination, buses can be rerouted to respond to demand.
Buses use existing roads and infrastructure. This also facilitates long- and short-term rerouting. And, while precise comparisons are complicated, buses have the overall edge in fuel efficiency. A comparison by the International Council on Clean Transportation last year put fuel economy at a little over 40 passenger miles per gallon for a plane and at around 152 passenger miles per gallon for an intercity bus. Trains came in at about 51 passenger miles per gallon, slightly better than a plane but slightly worse than a car.
It typically does not matter how much your luggage weighs when you take the bus. The legroom ranges from adequate to spacious, depending on the type of bus you select. And passengers don't need to run the elaborate security gauntlet we have developed for air travel. You can bring as large a water bottle as you care to carry, and not worry about whether you remembered to take your craft scissors or your full-sized shampoo bottle out before putting your bag in the luggage compartment.
Buses are also good for taxpayers. The capital outlay is minimal and none of it is coming from the government. Even if it were, the inherent flexibility in running a fleet of buses would make it a much wiser investment than the trendy rail projects so popular with federal and local politicians.
It has been 40 years since I took an intercity bus myself. They were okay back then, though they lacked many of the improvements instituted in the past decade. The remaining problem that most people agree about is the state of bus terminals in most cities. New York City's Port Authority Terminal at 42nd Street has such a poor reputation that comedian John Oliver lampooned the agency's concern over unauthorized use of its image on a dinner plate.
Bus terminals could certainly be improved, and not only in New York. If lawmakers are interested in supporting transit options, this could be a much more logical place to focus spending, rather than on inflexible and often redundant trains and tracks. Or, if local and state regulators allow it, existing terminals could even be replaced by new alternatives. For instance, strip malls, of which there are probably more already in place than the market will be able to support in the era of online shopping, could be repurposed into open air bus terminals. Most already have ample parking.
The rise in popularity of long-distance buses is a good example of how the private market, left to its own devices, can fill a need effectively. Moreover, the market can do so without government intervention or tying up public capital for years to support a project that may no longer make sense, even by the time it's completed.