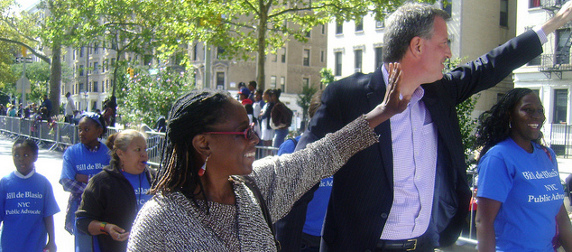 photo courtesy Bill de Blasio on Flickr
When a king is married, his spouse usually bears the title of queen. In this country, when a top elected official is married, the spouse traditionally gets the appellation first lady, though that position is just as likely these days to fall to a man.
Our founders wanted to draw a clear distinction between foreign royalty's pomp and privilege on the one hand, and the Everyman potential of elected office in the newly United States. To be sure, in those days Everyman actually had to be a man, and a white one at that. In most respects, we have come a vast distance toward achieving the sort of equality - of opportunity, not of outcomes - that 18th century liberals might have idealized. In a few minor ways, we may be moving in the other direction.
Consider the position of first lady. The office carries no legal responsibility and no remuneration, though certainly its holder has played an important behind-the-scenes role on many occasions. Dolley Madison was a significant figure in the White House long before she became an ice cream icon, or even before she became first lady, since she served as Thomas Jefferson's hostess before her own husband's election. When Woodrow Wilson was laid low by a stroke, his wife, Edith Bolling Wilson, essentially took control of the executive branch, strictly limiting the matters brought before him and even reputedly helping a journalist prepare a fictional interview with the president to conceal Wilson's true condition. Eleanor Roosevelt took a high-profile role as her husband's emissary; Jacqueline Kennedy established a White House social scene that played a part in Cold War geopolitics; and Hillary Clinton used her time in the executive mansion to launch a political career that is still playing out.
Yet though a first ladyship can be an important position, most of the time it isn't. With power comes responsibility. A first lady usually has neither, at least with respect to the official position held by her (or his) spouse. Greet the dignitaries, look after the household and let the chief executive vent in private - if a first lady does that and nothing else, he or she is doing a good job. Let's not forget that first ladies are entitled to have their own jobs too, though we have not yet seen an instance of one who occupies the White House while concurrently holding a position on, say, a corporate payroll.
First lady is not a bad gig, and there is no shortage of applicants for the position. The title has expanded over the years to include the spouses of governors in many states, and even a few big-city mayors - notably the mayor of New York City.
In the Big Apple, the first lady position offers just a fraction of its White House stature. Two recent mayors, Michael Bloomberg and Edward Koch, were not even married when they served at City Hall. Rudy Giuliani quite publicly split with his first lady, Donna Hanover, while he held the position. Mary Ingerman Beame, who was married to the city's first Jewish mayor, Abraham Beame, and Joyce Dinkins, wife of the first African-American mayor, David Dinkins, were noncontroversial and seldom in the news.
Things are different nowadays in the city that likes to refer to itself simply as "the city." Mayor Bill de Blasio's wife, Chirlane McCray, played a major role in his campaign, especially in helping to galvanize support from the city's African-American community during the hotly contested Democratic primary. Those community ties did not prevent parts of Manhattan from being tied into traffic knots this month by demonstrators protesting the police chokehold death of Eric Garner, but things might have gotten more out of control had a large segment of New Yorkers not been willing to give their 1-year-old mayoral administration the benefit of the doubt. Most of the doubts directed at the administration have been expressed on the other side, by police, who feel de Blasio has been insufficiently supportive, a feeling that was amplified by last weekend's murder of two officers in Brooklyn. Caught between police and protesters, de Blasio has had a deer-in-the-headlights look ever since a grand jury refused to issue any indictments in Garner's death. At least his wife's sentiments are presumed to be on the side of the demonstrators, and therefore so are his.
Yet McCray has been a source of trouble for de Blasio as well, notably via the position of her "chief of staff." The first holder of that position, Rachel Noerdlinger, has been on unpaid leave since it was revealed that she failed to disclose her boyfriend's criminal history to the city. Her son was later arrested for criminal trespass. Noerdlinger is a former spokeswoman for the Rev. Al Sharpton, who has made a career of attacking police treatment of minorities, and her $170,000 position in de Blasio's administration convinced many cops that the mayor is against them. Many wondered why a city first lady even needs a chief of staff - not to mention a staff of any sort.
Noerdlinger's salary was almost the same as that of Michelle Obama's chief of staff, Tina Tchen, who makes $172,200. But Tchen, an attorney, also holds the position of assistant to President Obama, which makes her role less of a lightning rod.
De Blasio may have learned from Obama's example. Noerdlinger's replacement is Roxanne John, who was already on the mayor's payroll and will receive just an additional $25,000 annually to serve as McCray's chief. But John will also have a newly hired deputy chief, Jackie Bray, who will be paid $125,000. So the total for McCray's top staff will be $150,000, a bit less than Noerdlinger made.
New York City taxpayers will never notice that $150,000 on top of all the other stuff they pay for in order to run "the city." But it shows how far we've come from those early days of the Republic, when the spouse of a chief executive was just a spouse, not the holder of a title that came at the expense of the citizenry.