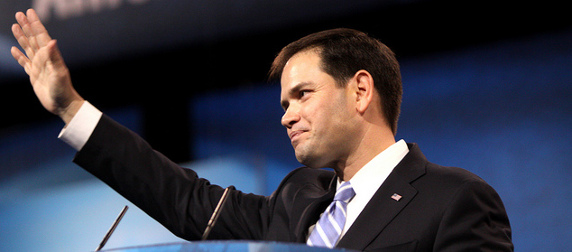 Sen. Marco Rubio R-Fla. Photo by Gage Skidmore.
In the crowded GOP presidential primary, one candidate has hit on an idea that deserves to catch on.
Sen. Marco Rubio of Florida, speaking in Chicago last week, called for a "holistic overhaul" of the American higher education system. He was sharply critical of the "cartel of existing colleges and universities" that control the existing accreditation process - a problem I wrote about back in 2012. While I am pretty certain Rubio was not responding to my advice, it is encouraging to see that calls from varying sources to fix this broken system are being heard and endorsed by at least one presidential campaign.
Rubio's plan to "bust this cartel" includes establishing accreditation standards that are more welcoming to low-cost, innovation-driven institutions, allowing market forces to drive down the cost of higher education. We have already seen the beginnings of the inevitable fallout of an overcrowded industry; events such as the near-closing of Sweet Briar College earlier this year signal that the existing model can't be sustained as it is. (Sweet Briar has been rescued, at least temporarily, after alumnae and other supporters raised funds and installed a new board.)
As long as postsecondary administrators and faculty, who have a vested interest in the current system, dominate the accreditation process, it is hard for any truly disruptive institutions to effectively compete. The accrediting agencies determine which institutions qualify for government-backed student loans and other taxpayer support. Even those who disagree with Rubio's characterization of the process acknowledge the system isn't working. Barmak Nassirian, the policy director for the American Association of State Colleges and Universities, disagreed with the "cartel" analogy, but also said, "There's no question that accreditation needs to be reformed."
Not only is it hard for upstarts to gain accreditation; it is hard to strip accreditation from floundering colleges and universities. The Wall Street Journal recently reported that accreditors rarely eject schools with abysmal graduation rates and other low performance indicators, leaving students with an even less reliable sense of whether a school is worth their investment. And for schools that do lose accreditation, resorting to lawsuits or appeals to politicians can sometimes pressure agencies into reversing the decision.
Rubio's speech was meant to set him apart from his competitors, both within the GOP and outside the party. The speech included direct criticism of Democratic front-runner Hillary Clinton, as well as "other outdated leaders" who he declined to name, though many commentators have suggested it was a veiled jab at Jeb Bush.
Bush and Clinton spoke jointly last year about the problem of higher education affordability, though neither offered the sort of sweeping blueprint for reform Rubio has outlined. Clinton went so far as to caution that "Technology is a tool, not a teacher," perhaps suggesting some level of resistance to straying too far from the traditional model. This is a model, by the way, in which many of the teachers are graduate assistants, while many of the professors would rather spend time publishing than teaching.
It is too early to see whether other GOP candidates will adopt Rubio's call to reimagine the postsecondary accreditation process, but we can hope that at least some of them do. So far, those who are not in favor of changing the system haven't had to defend the status quo with much rigor; Rubio, and any other potential reformers, may change that conversation.
I am more skeptical of one of Rubio's proposals on funding tuition. He revisited an idea he has touted before, "student investment plans," a system in which students find investors to finance their education in exchange for a cut of their earnings. Investors would enter into a contract with the student, with the idea that students must convince potential investors that they will prove good long-term bets. This system sounds too much like indentured servitude. It also raises questions of control: Does the investor get to pick which jobs a student can pursue, or whether she goes on to grad school? What happens if the student wants to transfer or change her major? Sometimes thinking big can lead us places we don't want to go, even with the best of intentions.
Keep it simple, Marco. Letting nimble, low-cost institutions into the market and kicking ineffective, bloated ones out will go a long way toward streamlining the postsecondary education industry in this country. Other presidential hopefuls would do well to take note.