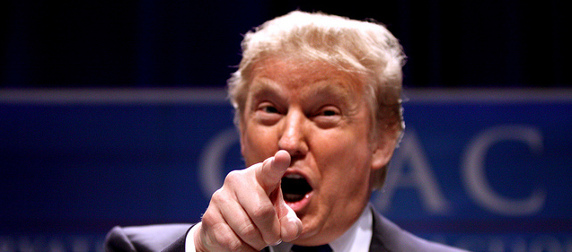 photo by Gage Skidmore
Here is tonight's Republican debate by the numbers:
Eight. The number of GOP hopefuls who will be trying to trump Donald Trump during the prime-time broadcast.
One. The number of candidates in that prime-time broadcast who will be treating Trump as an interesting piece of scenery to pass on the campaign trail. (That would be Jeb Bush.)
Seven. The number of announced candidates who didn't make the major-league roster and who instead have been offered a place on the farm-team debate prior to the main event.
Seven. The number of announced candidates who are willing to join the farm team.
Two. The number of debates taking place tonight.
Half of two. The number of debates the party wishes were taking place tonight.
100. The percentage of potential Trump supporters who already back "The Donald."
Zero. The probability that the field's current front-runner will win the GOP presidential nomination.
Infinity. The number of ways in which the current front-runner can make life difficult for other Republican candidates who actually have a chance of being nominated.
There is no telling how long Donald Trump may stay in the presidential race before returning to his main gig of being Donald Trump. Nor can we know how many debates he may commandeer before he goes. There certainly is no way to know now whether he will decide to channel his inner Ross Perot into an independent or third-party candidacy that would, like Perot's run, help elect a President Clinton.
But there is a lot we already understand about tonight's debates. For example, we know that this is the one that will be remembered as the Trump debate. Like it or not, this field has developed into "Donald Trump" and "everybody else."
Well, almost everybody else. Bush has the biggest pile of money, the best GOP political network and the greatest incentive to avoid engaging with Trump at all. Which is exactly why we can expect Trump to go after Bush, while almost everyone else goes after Trump.
But Trump is no real threat to Bush. Trump's support has already reached its practical ceiling; nothing he says or does can attract more Republicans to his cause now. According to the polls that helped establish today's lineup, about one in five GOP voters supports Trump. His chances of attracting the backing of the remaining 80 percent of the party are nil. His 20 percent or so is easily enough to put him in front of a field of 17; it only puts him in the middle once the field drops to around five, and it puts him at the back when it gets down to three. And even this presupposes that a lot of his existing support does not melt away, as it surely will when it becomes evident that Trump is not going to be the nominee.
Ted Cruz has actively tried to position himself to pick up those Trump remora when they start looking for a different shark. It will be interesting to see how he interacts with Trump, whose ego Cruz has been diligently fortifying. Most of the other Republican presidential contenders who occupy the main stage, save Bush, will be trying to keep Trump from sucking up all the political oxygen they need to keep their hopes alive.
Ben Carson is one candidate who has been suffocating since Trump started getting all the attention, though he has held on well enough to make it to the prime-time debate tonight. Simply being a political outsider, a genuine brain surgeon and an African-American who could increase the party's dismal support base in that community is not enough to compete against Trump's bluster and hype. Carson, though not a credible potential nominee either, exemplifies the portion of the field that will be lucky to outlast the tycoon from Queens.
So will the field's retreads, like former Texas Gov. Rick Perry and former Sen. Rick Santorum, neither of whom made the prime-time cut. The logic behind their appeal to GOP backers seems to be, "If you liked what happened to Mitt Romney, you'll love what's gonna happen to me."
Mike Huckabee and Bobby Jindal are names that have also been around the track a few times. At this point, they seem to be running mainly for the attention. Huckabee looks like a Trump wannabe, seeking to parlay his political race into better broadcast ratings when he inevitably returns to his temporarily abandoned TV commentary or his radio program. And Jindal, still serving as Louisiana's governor, looks like a Huckabee wannabe.
There are the bright young prospects, like Rand Paul and Marco Rubio, who are probably just getting their major-league cup of coffee this time around. The GOP debates are very important for them. Not so much for winning the White House this time - their chances, while better than those of the others I have mentioned, are not great - but either of them could be a very attractive vice presidential candidate, poised to draw more young and Hispanic voters to the GOP fold in a ticket headed by someone like Scott Walker or John Kasich. With either of those Midwestern governors at the top of the ticket and Rubio, especially, as a vice presidential nominee, Democrats would see a big threat to their prospects in several critical swing states. This has to be especially true for Ohio, where Kasich has presided over an economy strengthened by an energy boom that the Obama administration is doing almost everything in its power to bust, a policy that Hillary Clinton will endorse at least as long as it takes to secure her own party's primaries.
Cruz would be among the bright prospects too, if anyone in his party other than Trump could stand him. Instead, he is this year's Barry Goldwater; you can almost hear him saying that "extremism in the defense of liberty is no vice." We might recall that Goldwater actually did get nominated, though that didn't work out too well.
The Midwestern governors, Walker and Kasich, are probably Bush's most serious rivals. Walker has more money and momentum, but Kasich is a smart and patient campaigner who can win battles without turning them into wars. In that respect, he is enough like Bush to be a real threat, if he can manage to draw enough support to stay alive through the Trump storm.
There are the non-serious presidential candidates, such as Sen. Lindsey Graham, who is really running for a future nomination as secretary of state or of defense, and George Pataki, who is running because evidently he can't think of anything better to do. And there are the non-politicians, Carson and Carly Fiorina, whose appeal is derived mainly from their resumes. Neither stands much chance of being elected president next year, but strong debate showings could make them contenders for a vice presidential nod - especially if they pick up some convention delegates along the way. I also would not be surprised to see either or both of them in Congress at some point.
Chris Christie carries the distinction of being the first Republican hopeful whose 2016 campaign has imploded. Christie just hasn't noticed yet. He'll probably figure it out sometime around the Iowa caucuses.
So if you find this sort of thing entertaining, grab your popcorn and enjoy tonight's double feature. Otherwise, go about your business and come back after the Super Bowl, by which time we may be ready to debate something more serious than anything Donald Trump has ever said.