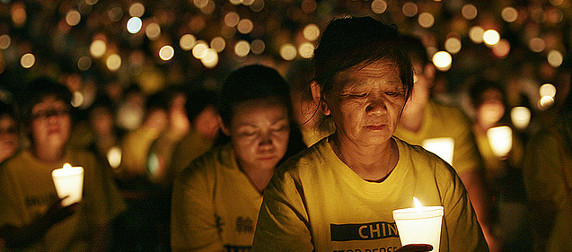 A vigil for the persecution of Falun Gong members in China. Photo by Flickr user longtrekhome.
The association between beauty pageant contestants and "world peace" is so well-established that it has become an easy punchline, but a Miss World contestant recently found herself shut out of the pageant because her commitment actually goes beyond platitudes.
The "world peace" cliche does spring from some form of truth; it is an answer many pageant contestants have leaned on because it is supremely uncontroversial. Yet Anastasia Lin, the 2015 winner of Miss World Canada, has a history of speaking out against human rights abuses in China, specifically the country's suppression of the religious group Falun Gong.
Lin, who is Chinese-born and still has family in the country, told BBC Radio, "I'm not a political person at all, I'm an actress," but that she had been deeply moved in speaking to Falun Gong practitioners who felt silenced within their own country's borders. She said that she thought "perhaps [she] could use the platform of beauty pageants to speak out for these people," who had little other means of reaching out for support from non-Chinese observers. She has gone on to speak about the topic in a variety of venues, including giving testimony before a U.S. congressional committee and writing an opinion column for The Washington Post. Lin also participated in a Canadian ministerial working group addressing the issue and has acted in films dramatizing the group's plight.
Her compassion, however, has cost Lin her chance to compete for the Miss World title. This year's pageant will be held in Sanya, China, and Lin did not receive an invitation letter from the Chinese government necessary to apply for a visa. The other Miss World contestants received their letters in late October. While the Miss World organization did not disqualify her outright and tried to secure the letter on her behalf, Lin did not expect to be allowed to compete if she arrived much later than last week's opening ceremony.
In a final attempt to make her way to the competition, scheduled to conclude December 19, Lin took a flight to Hong Kong in hopes of securing an on-demand visa at the border. However, Chinese authorities were aware of her arrival, and prevented her from travelling onward to Hainan, The New York Times reported.
The missing invitation is not an oversight, given Miss World's repeated attempts to secure it. More chillingly, Chinese security forces told Lin's father, who still lives in China, that there would be consequences if Lin continued speaking out against the repression of Falun Gong after she became Miss World Canada.
Apparently, pageant winners are supposed to favor "world peace," but not to actually do anything to achieve the universal respect for human rights on which peace depends.
Article 18 of the Universal Declaration of Human Rights protects "freedom of thought, conscience and religion." Yet the Chinese government has labeled Falun Gong a cult since 1999 and has launched a long-term propaganda campaign against the spiritual group, in concert with imprisonment and forced labor for those who refuse to renounce their faith. There have been allegations of abuse and torture of believers in prisons and labor camps.
Part of the reason that "world peace" was always a safe answer for pageant contestants was that it demonstrated some level of compassion for others. Lin has gone further, and demonstrated a deep empathy for those caught in China's human rights abuses coupled with the bravery to use her platform as Miss World Canada to speak out against them.
The Miss World pageant is based in London, where the winner typically resides during her tenure. We might question why Miss World would want to hold its final contest in a country that punishes admirable young people who fight on others' behalf - not just once, but seven times. (2015 will be the sixth time Miss World took place in Sanya; the 2012 contest was held in Ordos City, in Inner Mongolia.) We might ask, but we can answer our own question easily: China boasts the largest TV audience in the world.
While Miss World feebly told Lin that she was "not disqualified" but that there was nothing they could do, Canada has stood by its contestant. Canadian officials have expressed support for Lin's continued activism - though Lin has expressed disappointment at the silence of newly elected Prime Minister Justin Trudeau - and Miss World Canada has said that the country will not send a runner-up more to Beijing's taste in Lin's place if she cannot go.
Lin has pointed out that if China wants to participate in international events such as Miss World, it should have to play by international rules. "Let's say Miss World threatened to leave China - of course China would issue the letter," she said. "But it's hard to take this kind of moral stance, I know. Because there's money involved."
The 25-year-old actress has proven that she has more courage than a lucrative and well-established international organization. Lin has said she won't curtail her advocacy because of this incident or the threats to her family.
Congratulations to Miss World Canada and to her home country, who refuse to be cowed by Beijing's strong arm tactics. Too bad we cannot say the same about the people who purport to crown Miss World. After all - there's money involved.