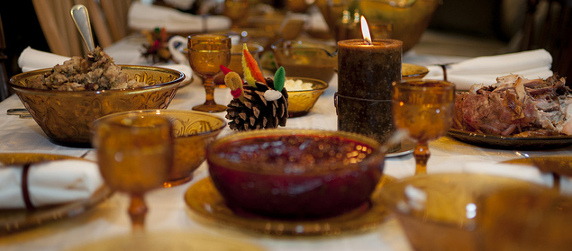 photo by Flickr user vxla
During a long drive with a new Toyota from Florida to New York last week, I paid less than $2 a gallon of regular grade gasoline on most of route.
Even buying "top tier" gas - gas with an enhanced level of detergent additives recommended by Toyota and some other car makers - I saw prices that were typically around, or even a bit below, $1.90 in northern Florida, Georgia, Kentucky and Ohio. I didn't run into prices above $2.40 until I reached stations in the Northeast Corridor, which I transited from Maryland to New York. Geography did not let me fill up at the inexpensive New Jersey stations I passed en route.
I timed my trip specifically to avoid this week's holiday rush. That rush, although larger than any since the financial crash, is still forecast to be well below the peak reached in 2007. AAA Travel has predicted about 46.9 million Americans will travel 50 miles or more during the holiday weekend; assuming the forecast is accurate, this will be the highest number on the road since 2007, but still 7.3 percent short of that year's high of 50.6 million travelers. The fact that we have not yet recovered to the levels of nearly a decade ago is noteworthy.
Why are so many who used to travel staying home? The answer is obviously not the price of fuel. My recent road trip is not an outlier; the average retail price for gas is $2.15 nationally, AAA reported, which is 74 cents cheaper than prices at the same time last year and the lowest price since 2008. So the answer to the missing 7.3 percent clearly lies elsewhere.
Millennials who were in or approaching college when George W. Bush was in office have since graduated. Many have gone on to set up their own households, but some of them returned to their parents' homes - and stayed there. A report from the Pew Research Center this summer showed that, despite an improved labor market for young adults, there are actually more 18- to 34-year-olds living with their parents than there were at the time of the financial crisis. As of the first four months of this year, 26 percent of young adults lived in their parents' homes. Maybe they are the ones who are not on the road this holiday weekend.
Or maybe it is working- and middle-class families who feel squeezed by a decade of largely stagnant wages. Even gas prices that are dramatically cheaper than a decade ago may not be enough to offset this financial pressure. Cheap travel is still more expensive than staying home, and there may be a significant number of Americans who simply cannot make their budget numbers work, even if they might like to travel on the holiday.
I suspect it is not security considerations keeping people home; 9/11 was fresher in our collective memory in the mid-2000s than it is now. But it certainly might be the scarcity of airline seats and the increasingly common knowledge that a cancelled flight can mean days of delays while hunting for the next open seat on a route, even in non-holiday periods. As airlines engage in "upgauging," in which they add more seats per flight but cut back on the number of flights overall, fliers have fewer options both when they originally book and if they need to secure a new seat because of inclement weather or mechanical failures. Some travelers may prefer not to bother, even though airfare is basically the same price as last year, according to Airlines Reporting Corp.
Perhaps the change is just that more people are accustomed to doing their visiting these days via FaceTime, Skype or one of the many other applications that allow us to converse face-to-face across long distances (even if we still lack the ability to call dibs on the last drumstick remotely).
Whatever the reasons keeping some people at home, it is still nice to see more people getting together to share Thanksgiving this year than in the recent past. Here's hoping your holiday is everything you want it to be, wherever you spend it.