photo by Larry Elkin
We do disaster recovery very well in Florida. It comes with practice.
Even though it had been 11 years since the last hurricane made landfall in the Sunshine State (ironic how the name fits despite the history), nobody who was around in 2004 and 2005 – when a half-dozen storms struck the state – has forgotten what it was like. Newcomers have seen the photos, heard the stories and paid the insurance premiums that resulted. Many commercial and residential property owners send reminders of detailed contingency plans to tenants and residents every year.
So when Hurricane Matthew took aim at the state's Atlantic coast as a Category 4 monster last week, Floridians were as prepared as anybody can get in a state that consists almost entirely of a low, flat, subtropical floodplain-in-waiting.
I have homes and ties to two communities that were both on Matthew's radar, even though they are nearly 300 miles apart. In Fort Lauderdale, where our firm's Florida office is located, we dismissed staff on Tuesday afternoon as the storm was still raking the Caribbean, two days away. We wanted to let our people stock their cupboards, fuel their generators, board their windows or just get out of town before panic-buying and traffic jams would make those preparations difficult.
Statewide, a well-oiled government machine swung into action. The state's emergency operations center in Tallahassee – far from Matthew's projected path – was supplemented by emergency centers at the county level, including Flagler County, where my wife and I own a home next to the beach. By early Thursday morning, all waterfront areas in Flagler County were under mandatory evacuation orders, including homes situated along inland canals miles from the ocean. Nearly everyone heeded the orders.
I happened to be in New York when the storm hit. Broward County was mostly spared as Matthew made its closest approach to the coastline farther north. From Thursday morning through Friday afternoon, the hurricane followed a path parallel to and just off the state's eastern shoreline from about Palm Beach all the way up to Georgia.
In some respects we were just lucky. The powerful core of the storm stayed just offshore, and even though winds gusted over 100 miles per hour at Cape Canaveral and to nearly 90 in some parts of Flagler County, most structures withstood the wind with minimal damage – thanks to those strict Florida building codes that were put in place after earlier storms, including Hurricane Andrew in the 1990s. The biggest threat was from storm surge.
I was able to monitor the storm from New York as it approached our beach house. At 10:30 Friday morning, I lost communication with the house as the power presumably failed. An hour later I lost contact with the webcam at nearby Marineland, which by that time showed the Intracoastal Waterway about 4 feet over its banks as storm surge flowed inland. By that point the storm's winds were howling across the county and emergency services had gone into lockdown. There would be no further news until daylight Saturday.
I caught the first JetBlue flight to Fort Lauderdale on Saturday and waited at my home there until word arrived that the beaches had been reopened to returning residents. Every power customer in Flagler County was blacked out when Saturday began, but as I drove north I passed one convoy after another of bucket trucks with utility workers heading the same direction. By nightfall Saturday, most of the nearby city of Palm Coast had power restored west of Interstate 95; by the end of Sunday, the eastern part of Palm Coast and many of the nearby beach communities had their power back, too. Our subdivision, one of the hardest hit and most remote in the county, had electricity restored before dawn on Monday, by which time Florida Power and Light had restored the vast majority of its customers in the state.
Crews cleared all of the major roads first thing Saturday morning, which allowed emergency workers and residents to start getting around. Police and sheriff's deputies were out in force to keep looters away and to enforce residents-only restrictions at the beaches; they also guided traffic through signal-less intersections and around obstacles such as downed utility poles that crews could not immediately remove. My biggest problem on Saturday was that Marriott headquarters canceled all reservations at its local Fairfield Inn, where I planned to stay, during the power outage. Power was restored at the hotel by dinnertime Saturday, but without reservations, all rooms were assigned on a first-come, first-served basis. I got there in time to snag one of the last rooms for myself and stayed for two nights.
I got my first look at our beach house on Saturday evening. The storm tide had washed over the ocean dune, filling our driveway with two to three feet of sand – complete with ghost crabs, which scurried into holes as I walked to the door. The outdoor heat pumps were half-buried and fully ruined, and one support post on our backyard deck was knocked loose. Water had penetrated the ground-floor garage to a depth of about two feet, leaving a layer of black sludge, but all of the living space in our home is above the garage and stayed perfectly dry. Wind damage was trivial – just a blown-off screen door and some missing window trim.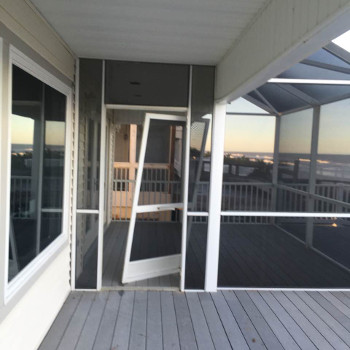 photo by Larry Elkin
Neighbors across the street, where homes were not as elevated, took the brunt of the flood damage, with downstairs carpeting, furniture, appliances and walls ruined. But specialist companies like ServPro and ServiceMaster raced into the area in response to calls for cleanup help. These are franchise operations, and I saw trucks from all over the Southeast parked in front of homes on our block. By Monday some homes were already getting deliveries of new carpeting for installation as soon as the dry-out was complete.
My first cleanup step on Sunday was to dig a channel through the driveway sand so I could rinse out the garage and let the water drain. That same day I filed a flood insurance claim online. On Monday I spoke with an insurance adjuster who was en route to Florida from Colorado; we made an appointment for him to visit at the end of the week. On Tuesday I obtained quotes to replace the ruined air conditioners, and by Wednesday my landscaper was at the house with heavy equipment to clear the sand from my driveway. He estimated that by the time we remove the sand from the rest of the lot (an operation still underway as I wrote this post), we will have 18 truckloads to haul away.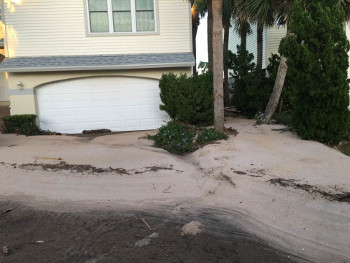 The driveway before...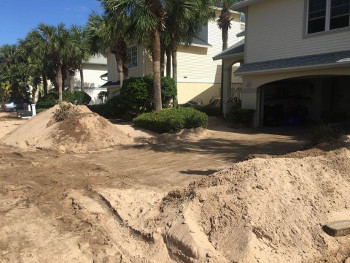 ...and during sand removal. Photos by Larry Elkin.
All this will take time and cost money, of course. Even if flood insurance covers much of the cost, hurricane coverage in Florida carries separate, higher deductibles, more than $10,000 in my case. And some items may not be covered at all. But compared to what might have been, we were very fortunate.
The offshore path that Matthew took was pure luck; technically, it never made landfall in Florida. But most of the state's good outcome, and my result personally, was a matter of planning and resources. Our house was saved by a formidable and well-maintained beach dune owned by our subdivision. The dune was thickly planted with palmetto trees and other substantial vegetation. Many of those plants sacrificed themselves against the storm surge, but they held enough of the sand together to minimize the damage to the structures just beyond the dune. Just down the beach at another subdivision with a lesser dune, property damage was much more extensive – and no dune remains today to protect against even a run-of-the-mill storm or high tide.
Matthew did not claim any lives in Flagler County and only took four in all of Florida – regrettable but a good outcome for such a severe event. As is often the case, the worst consequences of the storm happened in impoverished and poorly protected places like Haiti, and in locations in this country where unpredictable freshwater flooding occurred far from the storm's center. The epicenter of this bad luck in Matthew's case was North Carolina, where 19 people had died by Wednesday, half the entire U.S. total.
We can't stop hurricanes from happening and we can't always predict precisely where they will go and how severely they will strike. But Floridians have learned how to prepare people and property ahead of time and how to get back on our feet quickly after disasters happen. I would bet we do disaster recovery as well as anyone, and probably better than most.