photo by Larry Elkin
Augusta, Ga., Tuesday, 4 a.m. – With a long day of travel and uncertain road conditions ahead, I am too restless to sleep, so I decide to get an early start. It's finally quiet at the Sheraton Augusta, which is packed with Hurricane Irma refugees of all ages and multiple species. One man wearing a bathrobe has taken his bedding and camped in the executive lounge on my floor. Maybe he wanted to watch the news without disturbing anyone, or maybe the stress of evacuation has created a need for some marital distance. We acknowledge one another as I wait for the elevator.
Two employees at the front desk are the only people in sight as I check out. The hotel restaurant has been serving three meals a day buffet-style, so a limited staff can cope with the hungry hordes; the signs announcing last night's dinner menu are still out. I thank the staff for their heroic effort to take care of all these displaced people, and I snap a photo of the gift shop ceiling, which fell down after a roof leak developed amid Irma's Monday downpour. The storm, now just a depression, has moved away and the rain and wind are gone. I exit the hotel through its small conference center to reach my car. Along the way I pass a barefoot man in a hotel uniform sprawled on the floor outside a meeting room, fast asleep.
South Georgia, 5:30 a.m. – I can't see much in the predawn darkness, but somewhere south of Statesboro I notice that the roadside ditches are overflowing; it is the first sign that Irma has had more force down here.
I made contingency plans for this trip days earlier, when it became apparent that Irma was going to hit Florida hard no matter which course it took. My wife and I were in Washington, D.C. to attend a weekend wedding. After brunch on Sunday, I dropped her off at Union Station to take a train back to New York. I then turned south. I had to stop at about six stores in Virginia to find two generators – one in a box at a Home Depot in Woodbridge and another, which was the display model, at a Lowe's in Petersburg, 80 miles farther south. I knew somebody among my friends and relatives would need them. I also stocked up on accessories such as power cords, carbon monoxide detectors and, most importantly, gas cans.
Augusta is midway between Charleston and Atlanta. I chose to wait out the storm there because it was far enough from the coast to avoid evacuation orders, and it would offer multiple routes via interstates or back roads to reach either the east or west coast of Florida. I reached Augusta around 1 a.m. Monday, just as rain was starting to fall, and I stayed there for 27 hours until the storm passed.
I travel on secondary routes for the first couple of hours. The roads, mostly good-quality divided highways, are practically empty, even when I pick up Interstate 16 to swing eastward toward Savannah. I quickly reach Interstate 95.
Pooler, Ga., 6:30 a.m. – Cars are lined up from the gas pumps back to the street at Love's truck stop off I-95 just south of Savannah. These are the early risers who are anxious to get back to Florida. Some of them have been away for five or six days, since the first warnings that Irma was taking aim at the Miami metropolitan area that is my primary home. Everyone has heard that gas is scarce in Florida, so they want to fill up in Georgia. But fuel, which was readily available in Augusta, is hard to find here too. I still have more than half a tank, plus an insurance policy: the six gallons of unleaded gas I am carrying to fuel the generators. I bought this gas Sunday night just before I reached Augusta. I decide not to refill at Love's.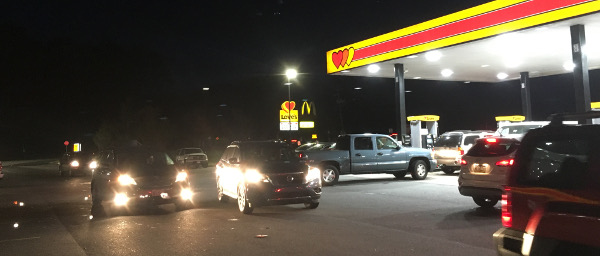 photo by Larry Elkin
Traffic is heavy considering the hour, but moving well on I-95 through Georgia. There are a few downed trees that have been moved to the side of the road. At several exits in Glynn County, near Brunswick, portable signs advise that all roads are closed; sheriff's patrol cars block the off-ramps. A few miles from the state line I exit to try again to find gas. All the stations near the interchange are closed and dark. The storm has knocked out power, and these stations don't appear to have backup generators.
Yulee, Fla., 8 a.m. – Yulee is the first place you reach after you cross the St. Marys River into Florida. It is also where I am going to get off I-95 to take mostly back roads to reach the peninsula's west coast. I am pleased to see cars parked in front of the pumps, but without long lines, at a large filling station off the interstate. I pull in, park, and go to the store before trying to fill up. That's when I notice all the people outside the front door. Someone says a store employee had announced plans to open in an hour; that was 30 minutes ago. The pumps are not operating. The doors are locked. I do not intend to wait.
I drive out and turn west on State Road 200, away from the interstate. This will let me avoid Jacksonville, whose downtown has been hit with record flooding. I expect that the perimeter road around the city would be jammed. S.R. 200 and U.S. 301 allow me to access my next artery, Interstate 10, well away from Jacksonville's local traffic.
Soon I reach Callahan, a tiny inland Florida town that tourists seldom visit because they have no reason to go there. There is gasoline at several stations, and the lines are only a little longer than normal. I start the pump and open my rear hatch to fill the rest of my gas cans. A man approaches and asks how much I paid for the unboxed generator in the back of my car. I tell him it was a store display model – their last one – that I picked it up in Virginia for $659, marked down from $799 because it came without a box, a manual or some accessories.
I now have enough fuel for my entire day's travel. I can get to the west coast to drop off one of the generators, and then double back east to reach Palm Coast, where my wife and I have a beach house that has probably taken a beating from the storm.
Williston, Fla., 11 a.m. – The Winn-Dixie supermarket is open. It has power in abundance thanks to backup generators, with bright lights and freezing-cold air conditioning on a toasty 90-degree Florida day. The landscape has grown increasingly bleak since I got off a short stretch of I-10 and turned south on U.S. 301 and other secondary roads. In Gainesville, home of the University of Florida, there are numerous trees down (but all cleared from the roadways) and a lot of standing water. Traffic has backed up at a couple of intersections where the lights are not working. I haven't seen a functioning gas station since the hamlet of Baldwin, where I got onto I-10. I stop at the grocery and call my friends in Homosassa to see if they need any other supplies when I drop off the generator. They say they don't.
There is an auto parts store next door to Winn-Dixie. The store is dark but the doors are unlocked. Inside, a few clerks are serving customers by flashlight. It's cash only. I pick up some fuel stabilizer and a couple of quarts of oil for the generators.
I have been passing one convoy after another of workers and their heavy equipment rolling into and across Florida to restore utility service. Some are tree-removal specialists; others will fix power lines and transformers, thousands of which have been destroyed across the state. Homosassa is about an hour north of Tampa. Here the land rises a few dozen feet above the Gulf of Mexico, which is high enough that my friends did not need to evacuate. But they have been without power for two days, and with the amount of damage in the region they might still be a week from having it restored.
U.S. 98 became a busy evacuation route after the main north-south corridor in the region, I-75, gridlocked. Now the traffic is moving pretty well on U.S. 98 except at a couple of intersections where, again, the lights have failed. I lose a half-hour crawling through those intersections.
Homosassa, Fla., 1 p.m. – I have never used a generator before, let alone set one up, and neither have my friends. But they are pretty handy at maintaining things like lawn mowers, and I am pretty good at reading. I have downloaded the manual that was not packed with my preassembled generator.
Carefully following each step of the instructions, we choose a well-ventilated outdoor spot for the generator, sheltered from any rain, in the screened-in lanai near (but not too near) their swimming pool. We fuel it up, check the oil and set the switches. My friend pulls the cord and the generator roars to life – for about a minute, maybe two tops. Then, abruptly, it halts. It doesn't spin down slowly; it hits some sort of internal brick wall. The starter cord can no longer be pulled. After following some troubleshooting procedures, we conclude that this generator is dead.
Fortunately, I have another. I had no specific plans for the generator that was still in the box; it was there in case someone I knew needed one. Otherwise, I was likely to drive it back to the Northeast, possibly for use at our Vermont place. But my friends in Homosassa need a generator, so we haul out the second generator and set it up. My friend is willing and able to siphon out most of the gas we put in the first generator. We transfer it to a gas can and then pour it into the second machine.
This one roars to life and stays alive. Success! I outfit my friends with a couple of heavy-duty outdoor extension cords, the spare motor oil and enough fuel to get them through the night (or longer). Also a couple of battery-powered carbon monoxide alarms for the house. Internal combustion engines are serious business. Carbon monoxide can kill you before you are even aware of its presence.
First we plug in their refrigerator, and next a coffee pot. I enjoy a couple of cups and a brief visit before I depart. I am hauling a dead, partly fueled generator in the back of the minivan, and I have about five gallons of extra gas, plus a little less than half a tank in the car.
Inverness, Fla., 6 p.m. – The dead generator doesn't want to stay upright. Without the bulky box of the second generator to keep it in place, it keeps tilting over when the van makes a sharp turn or abrupt stop, which happens more than I would like on the overcrowded local roads. I spot a Lowe's store in the small town of Inverness. Although Briggs & Stratton advises bringing defective generators to its repair network for warranty service, I would rather return it to the retailer than haul it to a shop near home. The lady at the service counter says I can return it, since I have the receipt. A young man helps me get it out of the car.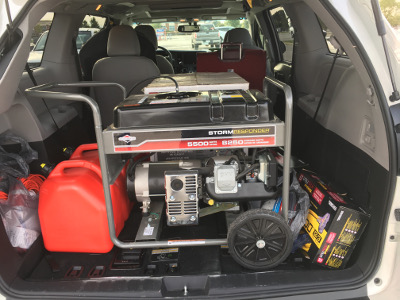 photo by Larry Elkin
Then the trouble starts. I tell him there is still a little fuel in the tank – we couldn't siphon it all – and he doubts the store will accept it. A manager is called, and then the manager's manager. The store, it turns out, will accept the machine, but only to send out for service rather than for a refund. I will have to come back to Inverness, which is several hours from any place I regularly visit, to pick it up. Oh, and Lowe's insists I authorize a charge of up to $125 for repairs that will be fully covered under the manufacturer's warranty.
I very calmly explain that I won't do that. I also won't put the dead generator back in my car. I cross out the authorization for the $125 charge and leave the Lowe's people, unhappily, with custody of the dead generator. It's the sort of thing that needs to be addressed above the store level, and that won't happen tonight. Better to get back on the road.
I pass beneath I-75, on which traffic is crawling southbound. Most gas stations are either closed or open with the pumps out of service. Some of the pumps have been shrink-wrapped to protect them from storm damage. Nobody has bothered to unwrap them because the stations have no gas anyway. Where the pumps are operating, the lines are incredible – dozens of cars deep, with sheriff's deputies stationed with lights flashing to keep order. I haven't seen lines like this since the crisis days of the 1970s. In fact, I barely saw such lines even then, because I lived in Montana at the time, and Montana never had gas lines.
State Road 40 runs eastward through the Ocala National Forest. I face about an 80-mile stretch where there are only a few homes and no operating gas stations. I'll have about a quarter-tank when I reach the other side, plus around five gallons I am still carrying in cans.
I turn north on Highway 11, which parallels I-95 but is about 10 miles farther west. In Flagler County it is pitch dark. This is a rural and largely wooded area, and it is clearly without power service. Only an isolated home or two has lights, almost surely because the occupants are using a generator.
Bunnell, Fla., 9:15 p.m. – Bunnell, the Flagler County seat, is an old-fashioned rural Southern small town. Larry's Guns & Ammo is one of the more prominent businesses, along with a few gas stations. They are lit, they are operating, they have gas, and there are no lines. I fill up and drive the short distance to my hotel, the Hilton Garden Inn off I-95 in Palm Coast.
I have a home here, but it's on the beach and I expect it has no power. The air-conditioned hotel is a more attractive option. I'm going to want a hot shower in the morning.
Palm Coast, Fla., Wednesday – I get some extra rest and breakfast at the hotel, and return to my room to do a couple of hours' work before going out to check my property.
Just as I am preparing to leave, I get a call from Tracy Larson. He and his partner, Robert Buckles, run a local business, Joshua's Tree Landscaping. Robert is an artist when it comes to driving a Bobcat front-end loader, and Tracy is a landscaper who took tremendous pride in turning our tiny lot into a beautiful rock garden after Robert removed the three feet of sand that Hurricane Matthew left for us last year.
The beach side of the Intracoastal Waterway was reopened to commercial traffic this morning. Tracy and Robert had rounded up a crew and the Bobcat and headed over to dig me out again. Now Tracy tells me that most of last year's work was destroyed, although some of the rock would be salvageable.
I expect that. What I do not expect is Tracy telling me that the air conditioner at the house was operating at that moment. I have power! And A/C! Someone else can benefit from my hotel room if I vacate it, so I grab my suitcase and head out.
Matthew was a quick hitter. It passed just 15 miles off the coast from my house, buffeted it with 100-mph winds and its seven-foot storm surge. Robert had plowed most of the displaced sand back into a makeshift dune again, but there was not enough time for much vegetation to regrow and stabilize it before Irma came along.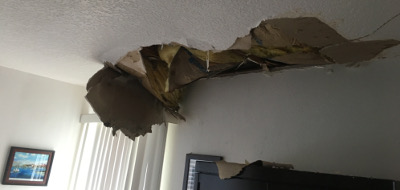 photo by Larry Elkin
Irma never got within 100 miles of the house, and the sustained winds were not as strong. But they blew directly in from the ocean, at 50 to 60 mph with gusts to above 80, and they did so for at least 12 hours – a full tide cycle. Not so much water came in, and not nearly as much sand was displaced. But where Matthew had left my house all but unscathed apart from the sand and water around our downstairs garage, Irma peeled off some siding and blew out a vent cover leading into the attic. This let the torrential rain inside, where it saturated and pulled down part of the ceiling in a guest bedroom upstairs.
I am not complaining. Compared to the death and devastation Irma left in the Keys and elsewhere in Florida, my losses are trivial. I settle into a perfectly habitable house (except for that one bedroom) to file my insurance claim and start contacting contractors. As I do this, Robert plows the sand out of my driveway.
Tracy and Robert will be back soon to finish clearing away the displaced sand and restoring the landscaping. Maybe we'll get more than a year out of it this time. We might get 20 or 30, since hurricanes are actually rare in this part of the state. Or maybe not. You have to be prepared for pretty much everything in Florida.
Which is why, when I get back up north, I'm going to buy another generator or two, and leave them in boxes until the day comes when I or someone close to me needs one.