To remind myself how far Palisades Hudson has come in 30 years, I need only look at this year's holiday photograph taken in front of the Space Shuttle Atlantis.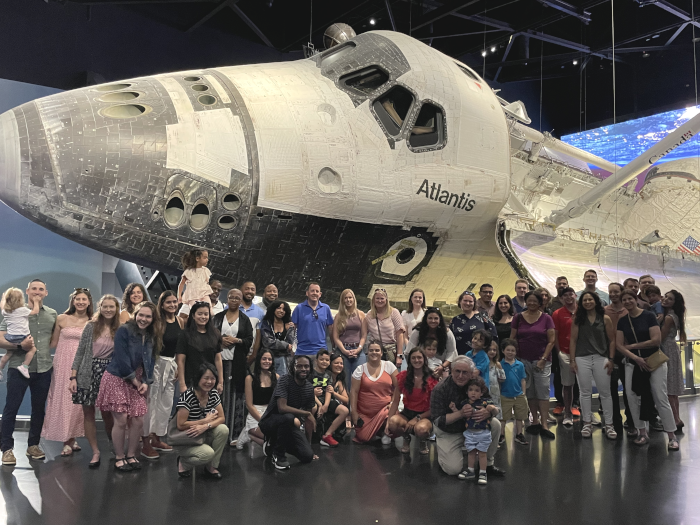 We have not (yet) crossed the Karman Line and entered outer space, though our work does take us far and wide. But there is a different sort of journey in the 48 faces this photo contains. Or more precisely, 47 faces plus the back of one toddler's head.
We took that photo at the Kennedy Space Center last spring, during our first companywide gathering since the pandemic began. Not all of our colleagues could make it. A few staff members were not fully vaccinated, which was my prerequisite for attending. Some chose not to come because their children had schedule conflicts or could not yet receive COVID-19 vaccines.
But most of us gathered for a day of business meetings at the Universal Hard Rock Hotel in Orlando, Florida as well as some accompanying outings at the adjacent theme parks and the Space Center. We invited family members to join us. This is not an every-year fixture at our company retreats, but we do it periodically to acknowledge the support we receive from loved ones when heavy workloads devour our schedules. Our most recent family gathering had been a cruise and concert weekend in Fort Lauderdale, to celebrate our 25th anniversary in 2018. Now it was time for a welcome post-lockdown reunion.
You can find me in the front row of that photo, kneeling with my arms around one of my grandsons. His parents and paternal grandmother are in the picture, as is my wife, Linda, who has been our company's human resources and marketing director almost from the beginning.
My grandson is one of the youngest of the Palisades Hudson kids; his mom is now one of the oldest. In between, and in this picture, you can find teenagers now in college and high school who were born while their parents worked alongside me. There are younger children whose births I have been around to celebrate, and others who came into the picture when their parents joined the firm. Today there are 30 Palisades Hudson children in all, according to the census we compiled for this event.
Some managers aspire to lead sprawling, multi-billion-dollar enterprises. One of the challenges they face is to see their staff not as line items on a spreadsheet, but as human beings with talents to contribute, and also with concerns and responsibilities outside of work.
My job is easier. I can name all 30 of those Palisades Hudson children, along with my staff's spouses and a fair number of their parents. I have always felt a connection with those parents. They send me their carefully nurtured young adults, and it is my responsibility to treat them the way I want my own grown children to be treated.
But when I look at the faces in that picture, I don't just see the past 30 years. Those faces embody Palisades Hudson's future, as well. My colleagues and I still draw energy from meeting new challenges, and the past few years have certainly brought plenty.
In recent years we have worked with many rising professionals in fast-changing fields ranging from music and film to cryptocurrencies and non-fungible tokens, or NFTs. These clients enjoy enormous opportunities, but also face considerable financial risk, especially if they pursue their endeavors without regard to time-tested business fundamentals. The evidence of this is all over the headlines.
We assembled this maturing staff so they can enjoy the same sort of long tenure with rising professional clients that I have experienced with the clients I first met in the last century. The staff Linda helped me recruit to our business many years ago now plays a major role in developing our business and driving its growth.
Shomari Hearn was 22 years old when he joined Palisades Hudson (not yet known by that name) nearly a quarter-century ago. This month he took on new responsibilities as our first executive vice president and chief operating officer. Everyone in our circle knows that if I were to suddenly exit the picture – which is not my plan, but life is an uncertain venture – Shomari would be in charge.
Shomari would be assisted by Paul Jacobs, who just assumed Shomari's former position as managing vice president. Paul has been with us for 20 years. Our vice presidents David Walters and Eric Meermann have similar tenures. Pascale Bocchino, who was our first administrative manager, has been here even longer. Linda recruited Pascale when Pascale was still in high school, working after school as our office assistant. Pascale never left.
If someone were to ask what is the most important thing I learned since I went out "on my own," which is obviously a terrible misnomer, I'd point them at the Space Center photo. When I thought about starting a financial management business, I thought about it in abstract terms. I expected to hire employees, provide services, collect revenue, pay bills, maybe open branch offices in other places.
There were no faces attached to what I imagined. No real people with real lives, real responsibilities and aspirations of their own. Imagining a business can be a very self-centered exercise. I found actually creating one to be quite the opposite.
So I'll take those 30 Palisades Hudson kids, and would happily greet 30 more if I had the chance. I can't (and don't) expect to stick around for another 30 years, but I am in no hurry to leave this exceptional group of co-workers and the clients we serve. The truth is I am too busy to retire, and with this group around me, there is no need.
After all, Atlantis completed 4,848 orbits before they hung her up. Neither of us look quite like we did when we rolled off the assembly line, but I don't have anything like the mileage Atlantis racked up. Barring any of life's surprises, I expect I have a fair number of laps left.
Thank you to everyone who has been part of these 30 years. My colleagues and I wish you all a healthy and successful year in 2023.