Five Questions With: Linda Field Elkin, Director of Marketing and Director of Human Resources
Linda brings nearly 30 years of experience to her position as Palisades Hudson's director of marketing and human resources. During her time with Palisades Hudson, the firm's staff has grown from two employees to more than 25; revenues have increased twentyfold; and Palisades Hudson opened offices in Florida, Georgia, Oregon and Texas (in addition to its original home in the Northeast). Today, Linda oversees staff recruitment efforts at approximately 100 top colleges and universities from coast to coast.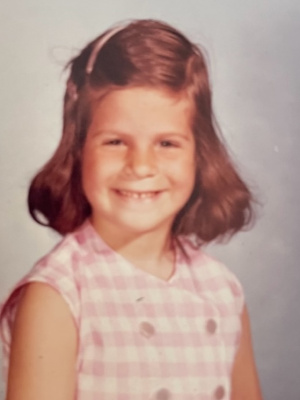 Linda, age five. Photo courtesy Linda Field Elkin.
1. As a child, what did you want to be when you grew up?
When I was five, I decided that I wanted to be a lox slicer — yes, really. I would go to the supermarket with my parents and watch the man at the deli counter move that sharp long silver knife through the pink lox. I was amazed that he could cut such thin slices. Even though that's not where my career took me, I still enjoy watching.
2. What's your favorite thing about your work at Palisades Hudson?
My favorite thing about my work at Palisades Hudson has been watching the growth that has taken place over the more than 25 years I've been with the company. It has been fascinating to be a part of an entity that started as a one-person office and to see it blossom into the organization that it has become today. The best part of the experience has been recruiting and watching the individuals who work here develop their skills. They are an incredibly talented and lovely group of people to work with.
3. Do you have a talent totally unrelated to your work?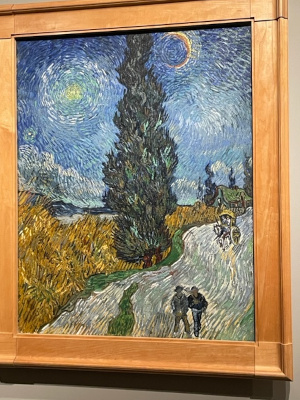 From the Met's exhibit "Van Gogh's Cypresses."
Photo by Linda Field Elkin.
I am not sure how talented I am, but my favorite hobby is oil painting. I take classes with a great group, and I particularly enjoy painting portraits. I love the mood that can be created in portraiture.
4. What's a typical weekend day look like for you?
A typical weekend day involves spending time with family. My husband and I are lucky enough to have children and grandchildren nearby, and we get to enjoy spending time with them on most weekends.
5. What's one place in your city you'd suggest to an out-of-town visitor?
Since my city is New York, there are so many great places here to choose from. I would say the Metropolitan Museum of Art ranks high on my list. The museum's impressionist galleries are a favorite.